Christopher Hitchens debates Peter Hitchens: Hitchens vs. Hitchens video and writeup
Podcast: Download
by Andy Kaiser
Article ID: 1218
[The Hitchens vs. Hitchens video is available. Scroll down to find it.]
Watching a debate between Christopher Hitchens and Peter Hitchens is fascinating on so many levels. They are both very good speakers and debaters, so the oratory mastery is impressive on its own, and the technique is fun to watch.  The topics discussed are easily inflammatory: just ask anyone, "How do you feel about the Iraq war?" Or, "How does God affect your life?" You'll receive very heartfelt responses. Finally, as you may assume upon reading their last names, Christopher Hitchens and Peter Hitchens are indeed related. They're brothers.
What's interesting about their relationship is that it's not what you'd expect. Or, at least not what I expected upon seeing them debate for the first time. To specify: 1) this was the first time I'd seen either one debate any one else, and 2) this was the first time Peter and Christopher have publicly debated each other in the United States.
Let me set your expectations with a little third-party information. What would you expect if you saw the following ads about the debate:
"One-on-one for the first time ever, brothers will clash" – From Grand Valley State University's ad. (GVSU was the host for the debate.)
"Hitchens Brothers: Anatomy of a Row" – An article from The Independent
You may think this sets expectations for a heated – perhaps angry and shouting – debate. After  attending the debate itself, I'm glad to report that there was no bloodshed, no torn clothes, nor any physical violence. While the debate did at times involve angry, emotional words, the outcome was on a balanced give-and-take debate.
Christopher Hitchens and Peter Hitchens have a history of being alienated for years, with only a recent reconciliation. That behavior, at least, met my expectations. The brothers are both excellent and well-focused speakers. There was no camaraderie during the debate, no emotional winks towards the other. No sign of a brotherly relationship. There was, actually, more signs of antagonism, more "polite impoliteness"  than usual. Since I haven't seen either Hitchens debate until now, I was unable to tell if that was just the way they normally carry their debates, or if – being related – they were pushing each others' emotional buttons. Christopher seemed to be the better composed of the two. If he was aggravated by any part of the debate, he rarely showed it, whereas Peter became exasperated at a few points. When the moderator asked him for comment after a particularly heated exchange, he gestured dismissively and exclaimed, "Why? It's futile!" (To Peter's credit, Christopher had evaded Peter's direct question, was talking over Peter at that point, and the moderator hadn't done anything.)
That's not to dismiss Peter Hitchens' debate skills or the presentation of his content. He was the right-leaning conservative in this debate. Based on audience responses to debate points (clapping and cheering), I'd say the strong majority – perhaps eighty percent – were liberal (and perhaps atheist), like Christopher. Far less were conservative (and perhaps religious), like Peter. The forum was a college-sponsored event, and GVSU students were given many free tickets. The audience makeup ranged from young college age on up. College students certainly didn't dominate, though. It was a good mixture of ages.
When I arrived at the venue – a large, ornate Catholic church, one of many beautiful buildings in downtown Grand Rapids, Michigan – I heard from an event coordinator that they were booked up way beyond expectations. There were over 1100 people attending.  Many were Christopher Hitchens fans. A college student setting behind me excitedly told her seatmate, "I heard about this an hour ago, but when I heard Christopher Hitchens was here I had to be here too!"
So Christopher Hitchens had more fans. He had his books available for purchase, and autographs afterward. Put short, he had the overwhelming support of the audience going in. It generally stayed that way throughout the debate.
The video of the Hitchens vs. Hitchens debate is here! Here's the first part of the sequence (1 of 14).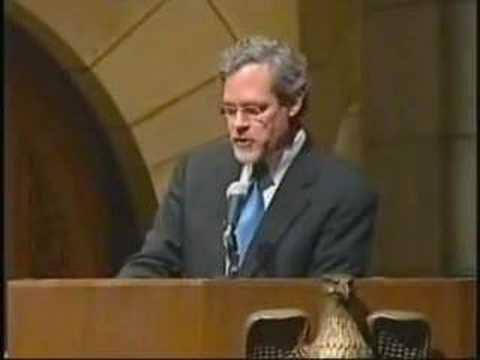 For the rest of the series, click for any part you'd like:
Part 1, Part 2, Part 3, Part 4, Part 5, Part 6, Part 7, Part 8, Part 9, Part 10, Part 11, Part 12, Part 13, Part 14
I'll summarize the various positions and points of the debate below.
Position 1: "The Invasion of Iraq was wrong"
Peter Hitchens: Peter agreed with this position. He used as illustration his own childhood growing up in England. Back then, Christianity was a "pallid and anemic thing". The stronger "religion" of the time was about the aftereffects of World War Two. That religion stated, "we won the war!"
Everything from his childhood was overshadowed by the war, and society and his childhood education convinced him that the World War Two was good. He's now "much less sure of this". Why? For two reasons:
"There was an arrogance about the war." The war had an inherent "rightness" to it, that Peter's side was in the right, and the war was being waged by people who knew their influential place in the world, and through war demonstrated their power.
"This was an idealist war." Or, to use another quote from Peter, "there is nothing more terrifying than somebody who thinks he is right."
Parallels can be drawn between the above points from Peter's experiences of a post-World War Two childhood, and the existing Iraq war today. And that was indeed his point. The situations are similar, and the arrogance and idealism we have today are as wrong as when they evidenced half a century ago.
Christopher Hitchens: "Lots of things about this war are unsettling, and so they should be." Christopher took the position of being for the war. He began his statement by listing common reasons why people oppose the war. "Our reasons for going were based on lies", "The U.N. decision was based on false evidence", " the disappearing weapons of mass destruction", and "we attacked a sovereign nation".
Then he brought up many reasons that trump the reasons above. One was that "Saddam was a bad guy." And Christopher used that sentence with the caveat that anyone who says it doesn't know what they're talking about. And that person has "no real appreciation of a fascist rule". If someone really knew about Saddam, his policies and actions, they'd have far stronger words than the benign-sounding "bad guy".
Among Christopher's points for supporting the war and the Iraq invasion:
- We've removed a  psychopathic crime family from power.
- We brought a infamous war criminal and his associates to justice.
- We're undercut the oil monopoly of Saudi Arabia and Iran (yes, he says, some of the side effects may have been serving the interests of the United State and other western powers).
Peter Hitchens: Peter countered with a list of his own points of what the war was doing to the countries of the invaders (primarily the United States):
- We've spent six trillion dollars we do not have.
- There are torture allegations against the US government.
- Thousands of innocent people are dead.
-  It was not a justified military action.
- The war was a result of "willful ignorance".
- Does the United States have the right to intervene anywhere it thinks there's a problem? If so, why are we not doing the same to China? Or Iran? It's a double-standard.
- And finally, a plea to common sense:  Given this list, how can anyone say this war is a success?
Christopher Hitchens: So it "comes down to the actuarial", and Christopher replied to Peter's points with his own list:
- We have indeed intervened when appropriate. He gave the examples of Gaddafi, who was "much worse than we thought", and the result turned out to be a major "non-proliferation victory".
- He addressed Peter's claim that we attacked a sovereign nation, but haven't done the same to China or Iran. This is because there are conditions that need to be met before a war of that magnitude can be brought. Iraq met those conditions. China and Iran do not. Those conditions are:
1) "Violations of the genocide convention" (I'm quoting him here for accuracy, but I believe Christopher is referring to the Geneva Conventions.)
2) Violations of the non-proliferation treaty
3) Aiding and harboring terrorists
4) Invading other nations
(While it can be argued that Iraq did do all these things, Christopher did not say (or I missed) where this list came from. Is there a list detailing "we will attack these countries under these conditions", or did Christopher make this up as a reasonable assessment of a world threat?)
Christopher said that this is "the critical standard". We can't just invade anyone we don't like. In this case, "we invaded Iraq much too late. Therein only lies our shame."
Position 2: "God does not exist, and he is not great"
(This position is a tip-of-the-hat to Christopher, as he's written a book titled "God Is Not Great".)
Christopher made the first claim.
Christopher Hitchens: "I don't think it'll take ten minutes to disprove the existence of god." His points:
- There is not a reason to believe in a god.
- You may wish to be a deist, but getting from deist to a theist is a huge step. Theism is "the wish to be a slave under a totalitarian being", one that watches you at all times, is overly concerned about your sex life, needs constant worship, and wants you to slice the tops off penises. It's "a celestial North Korea". And, "the tyranny only begins by your death", and during your life, you are forbidden to think for yourself or to gain scientific knowledge.
- You and I can't decide right from wrong without a god's dictates? Christopher calls this concept nonsense.
- Religion was what we thought up when we didn't know anything as a species. It was our first attempt at philosophy and morality. It was a reliance on the supernatural over reason and science. Consider the accomplishments and the scientific underpinnings on Einstein and Darwin, and compare them to the concepts of a burning bush and circumcision. The former are enlightened thinking. The latter is back from the days of limited knowledge and superstition.
- Consider: Heaven watches our race evolve for at least 100,000 years. And then, within just the last 3000 years, suddenly decides to get involved with our species? It does nothing through our frightening and horrific 100,000-year evolution into mankind (including wars, high infant mortality, short lifespan, rampant disease), and suddenly decides 3000 years ago it'll get involved when we become educated? This makes no sense.
Peter Hitchens: He felt that Christopher was simply picking the worst aspects of religion as examples. He wanted the "flippant tone" to be more serious. He brought up his own problems with atheism:
- Why is there something rather than nothing? There being something implies a creator.
- "How can we be so certain there is no god?" I believe this was Peter's response to Christopher and similar "strong atheists", who actively and strongly propose there is no god.
- The question of morality is irrelevant. Christopher and others like him, Peter says, suffer from "luxury atheism". This states that religion is truly needed in the real world. If you have no religion, Peter argues, you have no moral direction. And this is one reason why we have so much more violence in society today.  In practical use (and not armchair discussions), atheism is doing whatever you want. And that leads to abuse of others.
- When you despise the idea of god, you try to become a god yourself. It destroys authority in society. It gives us a "trash culture". This brings a breakdown of civility: "I will do what I want." He says, "Without religion, we are lost." He added, "And don't trivialize circumcision. This is far more serious."
Christopher Hitchens: Chris's rebuttal was brief:
- Circumcision is indeed not funny. He brought up the example of female circumcision being particularly abusive.
- The concept of "vicarious redemption" (where God's automatic and instant "removal of sins") is ridiculous.
- The Andromeda galaxy is on a direct collision course with our Milky Way galaxy. (Our collision with Andromeda is a known fact.) In three billion years – a fairly short time on the cosmic scale - all life in our galaxy will most likely be destroyed. Christopher's point: This is God's design? This is the work of an intelligent creator? If there was a creator, that creator seems to be filled with "extreme incompetence, cruelty, and indifference".
Peter Hitchens: Peter responded with the following points:
- If you abolish religion, "it wouldn't be replaced with a blank space". Something would take it's place, and that would be abused horrifically. When you give someone power, they abuse it.
- Christianity is hope. This was a part of humanity before religion was formally invented. We need religion to give us hope.
- It's circular logic to ignore any good things that religion does, and flag every bad thing and find its connection to religion. You can't have it both ways.
Christopher Hitchens:  Christopher had the final comments.
- The story of Abraham and his son Isaac is a story about submission. It's a story about a god-dictator toying with his creation. Anyone who loves this story loves to be a slave.
- To counter Peter's earlier point, Christopher said that nihilism and relativism do not equal atheism. The concept of "do what you will" is bad when taken literally. But how is this different than a person who acts while saying, "God is on my side"?
- If morality can only be derived from the supernatural (God and religion), then Christopher has two challenges for us:
1) Name a moral action that couldn't be made by a non-believer.
2) Name a stupid or evil action that can be done by one who claims "God says so".
Christopher's point? It's extremely difficult to come up with an answer for the first request. The second request is far easier to answer.
Audience questions
At this point, the debate was closed and the floor was opened up to audience questions for Peter and Christopher Hitchens. I had questions I wanted to ask. I walked to the front and stood in line for the microphone, as did many others. Unfortunately, I wasn't able to take notes effectively while waiting in line, so won't transcribe the audience questions here (hopefully we'll someday have a video or transcript available of the whole event). Also unfortunately, I didn't move fast enough, as only half the questioners were allowed to ask questions before they called the evening to an end.
I noticed that the majority of audience questions were directed at Christopher. Mine were all for Peter Hitchens. Here are the questions I was going to ask (I hadn't yet narrowed them down to a single question). They're actually pretty standard, obvious questions, and I wanted to ask them because I'm surprised they didn't come up during the debate itself.
1) The religious aspects of this debate have centered on Catholicism. With the many differences,  conflicts and inherent contradictions between religions, how do you know your religion is the right one?
2) What evidence in your life do you have that God and Christianity are truth?
3) Different religions have different miracles and different myths. Creation stories seem to contradict each other. Reigns of various gods or goddesses would interfere with other gods in other religions. Can these coexist, or is there only one true religion?
Conclusion
I loved this debate. Why? Because when done correctly, a debate is critical thinking at its best: Christopher Hitchens and Peter Hitchens actually spoke about issues and ideas. That's a much improved change of pace for anyone who watches political discussions on TV or listens to talk radio, where both are filled with hatred and ad-hominem attacks towards anyone who thinks in opposition. In that case, the goal is to make sure your side wins the war of ideas, regardless of common sense, logic, or fairness. I much prefer the debate format: everyone has their say, and if you start attacking the character of the opponent, that actually detracts from your own impact.
The Hitchens brothers kept to the point. They both made their cases well, defended them well, and gave us an enlightening debate. More importantly, they gave us a lot to think about later and (in my own case) gave me a better understanding of both sides of multiple issues.
Other articles related to this topic: