Podcast: Download
By M Parrott
Article ID: 1326
The ideomotor effect is a psychological accident that spans many new age traditions, séances, and other "woo-woo" practises. I must emphasise that these practises aren't faked intentionally. People delude themselves into believing they are true. Examples of the ideomotor effect cover a wide range of supernatural games, from Victorian-era séances to examining the most harmoniously-vibrating new age crystal.
The ideomotor effect and the Ouija board
Ah, yes, one of the most popular séance tools! Today, Ouija boards are usually perceived more as a joke and a fun party game. We all know the basic principal and layout of the most common Ouija boards – you've got a flat board with letters of the alphabet printed on it:
You've got a "planchette", which is a small pointing device that can be slid around the board. Participants put their hands on the planchette and concentrate on a particular problem, question or spirit communication.
The planchette will then start to move towards particular letters or symbols on the Ouija board, giving you a response to your question.
If you want to test this out as we go, it would be a great exercise and far superior to me just talking to you:
1) Get 26 small sheets of paper. Write the letters A-Z on the pieces.
2) Get a large table and remove any coverings (like tablecloths).
3) Place all the cards face up in a circle so it looks somewhat like the picture you see here. Candles are optional.
4) Get a strong wine glass (preferably one without wine inside). Turn it upside down and place it in the centre of the cards.
And there you have a homemade Ouija board. The next steps work better if you have more than one person, however you can try it alone if you want to tempt the Powers of Darkness all by yourself.
Turn one letter over so it's face down. Place two fingers on the wine glass. Concentrate. Focus on believing that the wine glass WILL definitely move towards that one letter turned upside down. Don't move your hand intentionally, but if the glass moves move with it. Keep concentrating. It will move if you concentrate. And it'll speed up towards the letter and when it gets there it will stop at the letter. Now that may not have worked for all of you, but it will have worked for some. I also apologise if the wine glass shot off the table and smashed. If so, that just means you are really easy to manipulate.
Now you may be wondering how that worked and why the glass moved. You know for a fact you didn't move the glass. So how did it move? Through a genuine spirit!
Nah, just messing with you. The movement happens because of the ideomotor effect.
The ideomotor is the mechanism which makes your reflexes kick in when your knee is tapped gently with a doctor's hammer. But in this case what happens is, due to you focusing so much mental power on something, your body makes it physically happen. You may not think you are doing it, but you are, and the more you are convinced it is going to happen, the faster it happens. Which is why a Ouija board "works" better for people who use one more often. What evidence do I have for this? Easy: find a medium who will do the Ouija board blind-folded. Blindfold them, and then without telling them, turn the Ouija board around. As the "Ouijing" commences, the medium will move the planchette to the locations that they think the letters are, as if the board was rotated correctly. This shows the Ouija board is all in the user's mind, and that it isn't some spiritual communion.
Ouija boards aren't the only evidence of the ideomotor effect in new age superstitions.
Dowsing
Dowsing is traditionally thought of as the process of finding underground water or oil using Y-shaped sticks or wire. To a large extent, this is the process. But dowsing has widened its spectrum of effect. A few years ago, I saw a dowser trying to find human remains on a British Archaeology programme called "Time Team". To be perfectly honest, I wouldn't be surprised if I saw someone out there claiming they could dowse to find cancer.
There are two main ways to dowse. One way is with wooden or metal sticks. Another way is with a pendulum (often, for some reason, with a crystal hanging off the lower end of a string). Here are instructions on how to dowse:
1.       Make a pendulum. Use the aforementioned string and crystal if you want, but a rope with a nut tied on the end will work just as well.
2.      Get six small, watertight, opaque containers. I used film canisters.
3.      Fill one container with water.
4.      Lay the containers out on a table. Make sure you know where the water is.
5.      Hold the end of the rope with the tips of your fingers.
6.      Now pass over each container letting the pendulum come to a rest. When it comes above the water-filled container, it will start moving left to right. It will. Concentrate on this fact as you hover the pendulum over each container.
7.      Run the pendulum over all the containers, again and again. Do this about thirty times and record how many times it works.
8.      Now repeat the process another thirty times. But before you do, get someone to shuffle the containers so you don't know which one is water-filled.
If you actually did this, then I am sure that you'll have a very low rate of success on the second test, the one where you don't know where the water is. Why? Because now the process is completely down to chance. You will theoretically dowse the correct container once out of every six times.
This is all there is to dowsing: the dowser unconsciously moves the pendulum or sticks. Now you may be wondering how people come to believe that dowsing works. Well… People tend to forget what doesn't fit to their beliefs. Or they ignore evidence and statistics, and use a special pleading to explain away negative results. This isn't necessarily intentional. Studies have shown that when people believe in the paranormal, those people often think they will have tested better than chance, regardless of the actual statistical results.
Table tipping and table turning
Here's another classic séance favourite. Table tipping is where several people put their fingers on the outside of a table and the table moves round the room or tips over. How's this done? You guessed it; the ideomotor effect. Now how can we prove the table isn't actually being moved supernaturally? One way is to put a sheet of glass over the table. Supernatural theory states that the table is directly affected, and a sheet of glass wouldn't affect the results. However, the sheet of glass will move. Why? Because the séance participants are physically moving it with their hands. There is no mystical effect targeting the table itself.
How to identify the ideomotor effect
It's a bit redundant now to go through every single example of the ideomotor effect for two reasons. One, I don't know them all, and two, it would get very boring. But it's important to know about the ideomotor effect itself so you can identify it when you see it.
If you see someone with a pendulum, their fingers on a glass, around a table, and the object moves supposedly paranormally, then you could put money on the ideomotor effect. The important thing to remember is that the ideomotor effect is an unconscious effect. People do not know they are doing it. Unfortunately for them, they don't have special powers or supernatural blessings. Such results are just the subconscious mind affecting the physical body.
A video by James Randi, demonstrating the ideomotor effect in action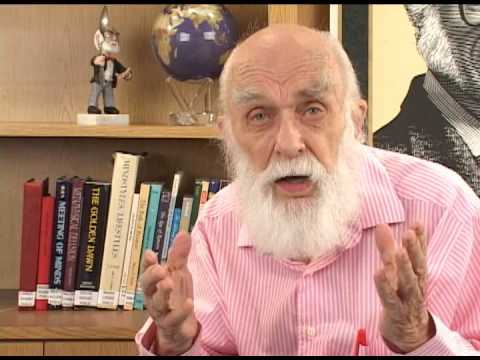 Other articles related to this topic: